CTI Career Management Services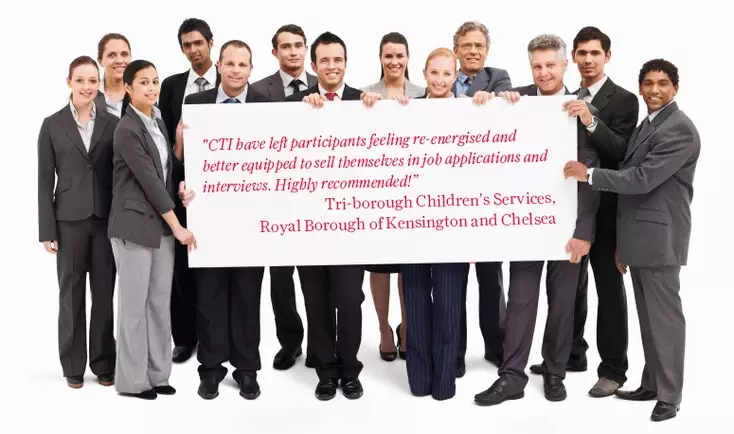 CTI can provide a full range of career management, career change and transition services based on many years of experience since 1976. These services are often provided to organisations which are re-structuring or downsizing due to economic downturn:
Outplacement services
Redeployment services
Personal career development & career review
Start your own business coaching
Pre-retirement counselling services
CTI has extensive experience of working with numerous organisations, assisting them through all the personal change involved in re-organisation. We have helped hundreds of people at all levels, assisting organisations with as few as one or two individuals up to around 500 people at one time.
"We used CTI for all our outplacement training, helping employees to tidy up and in some circumstances write their CVs, interview training and helping develop their full skills set. All our employees could not speak highly enough of you and your team members in their compassion for their situation and the quality of help given. You made a difficult situation easier for them to come to terms with. A very professional company."
Ralegh Integrated Solutions, part of DS Smith Packaging.
CTI would also like to introduce you to Career Horizons, an online Career Development tool that can:
Help employees take responsibility for their learning and development
Support managers in the Performance Review process and goal setting
Prepare team members to complete a Personal Development Plan
Fulfil the employer's duty of care in reducing job related stress
Enable employees to source ideas for achieving improved work/life balance.
Support flexible working by employees
Career Horizons can be customized with your organisation's logo and look and feel, and additions such as your competency framework, job family database and 360 degree feedback options. Clients who have already benefitted from using Career Horizons include: Institute of Sport, Arun District Council, Kent County Council, Barnardo's, Allianz, Ministry of Defence, HM Treasury, Marks & Spencer, Right Management, Thales, and Lloyds TSB.
If you would like any further information or clarification on this product, please reply via the Contact Us page quoting your interest in Career Horizons.