40th Anniversary of CTI Celebrations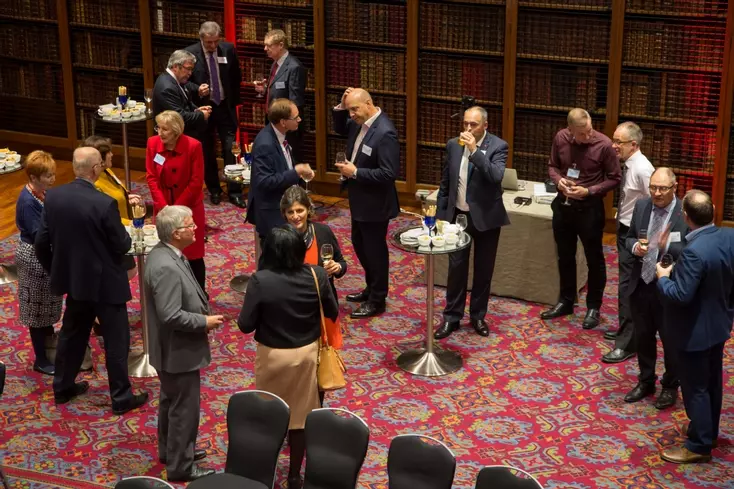 CTI Limited celebrated its 40th Anniversary on 19th October 2016 in the impressive Dorchester Library at the Royal College of Physicians. Current, prospective and former clients, CTI Associates and friends gathered to hear four Human Resource professionals from different sectors talk about the challenges of their work, and how CTI has come alongside to help them.
Guest speaker Dr Chan Abraham, Group Chief Executive of Luminus Group, rounded off the presentations with a challenging talk about 21st Century Leadership, and guests then enjoyed some delicious canapés and drinks, and took the opportunity for some good networking.
The client speakers were:
Linda Asamoah, Director of HR, Royal College of Physicians
Helen Howe, Commissioner for People Development, Hampshire County Council
John Dean, Head of HR and Business Support, GB Railfreight
Brian Wark, Director of Talent & Development, DS Smith Packaging
Above you can see: a video with short clips from their talks and from Dr Chan Abraham's address, a brief overview of CTI's 40 years to date, and some of Elisabeth's Tootill's remarks as Director of CTI Limited.
Some comments from our guests…
"… an excellent evening of inspiring speakers and networking."
"…you assembled a really great group of people – a testament to CTI's values and success."
"…I really enjoyed hearing about your journey, all the excellent work you have done and the very satisfied clients you have had over the years. Congratulations again on the big 40!"
"…the venue was fabulous, the speakers really interesting and the hospitality generous and gracious. It was good to have the opportunity to meet members of your team as well as fellow corporate practitioners."
"…it was a pleasure to be in the room with so many people in the profession from the range of sectors and with such wonderful stories to share. Thank you for involving me in the evening's event and am really pleased you also had fun!"
"…it was heart-warming to hear the connection you've made with the companies you work with and inspiring to listen to Dr Abraham."